Calvary Catholic Cemetery invites the entire community to a variety of events we host throughout the year such as Veterans Day and Memorial Day services, our Christmas Remembrance Tree Lighting, our Gravedigger Golf Tournament fundraiser, and our Annual All Souls Day Burial.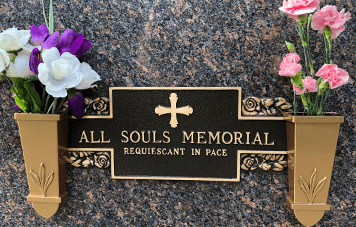 All Souls Interment
Each November, we honor All Souls Days with an opportunity for funeral homes and families to inurn human cremains they have in their possession. During our annual committal service, remains are place in our "All Souls Memorial Crypt" as we honor each soul in a dignified way. There is no cost for these inurnments, which take place just once a year. Families may purchase a brick/paver engraved with their loved one's name to be placed on the ground by the crypt. In addition, All Souls Day Mass is celebrated by the bishop in the St. Charbel Chapel and Mausoleum.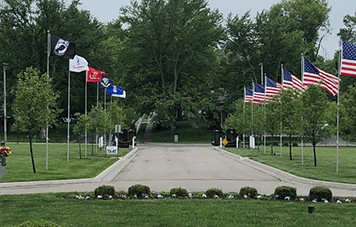 Memorial
Day
Memorial Day is a day of remembrance of and gratitude for all men and women who have died during military service for the United States. Many people visit our cemetery and attend our memorials with a sense of thanksgiving and patriotism. Each year a Memorial Day Mass is celebrated by the Bishop of Lincoln at the round-about in Calvary Catholic Cemetery on Memorial Day at 10:00 a.m. The Mass is said especially for all military service members as well as all souls buried in the cemetery. Refreshments are served after Mass.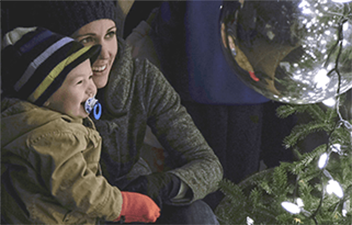 Advent Remembrance Tree
Each year, Calvary Catholic Cemetery provides a live outdoor Christmas tree on which members of the community can hang ornaments in memory of their departed loved ones. Placement of ornaments begins Dec. 1 at our prayer service and "Advent Remembrance Tree" lighting ceremony. You may place your own ornaments on the tree or stop by the cemetery office for a free ornament to decorate for your loved one. Ornaments can be added throughout Advent and Christmas and remain on the tree through Jan. 6, the feast of the Epiphany.
Volunteer with us
We are grateful to the many volunteers who work to make the events at Calvary Catholic Cemetery meaningful and help them run smoothly. If you would like to volunteer for one of our special events, please contact the cemetery office at
(402) 476-8787 or fill out the form below.